This Dairy-Free Parmesan Cheese has a crumbly texture with a cheesy and salty flavor. It's perfect for sprinkling on pasta, and salads, and only takes a couple of minutes to make!
I love having a batch of this stuff ready to go in my fridge. Any time I'm enjoying pasta like my Butternut Squash Vodka Pasta or a salad like my Dairy-Free Chopped Greek Salad, this dairy-free parmesan is definitely going on it.
If I don't have any ready to go, it's not that big of a deal, because it takes less than 5 minutes to make. Which I love. It adds such a cheesy and salty flavor that reminds me so much of real parmesan.
Jump to: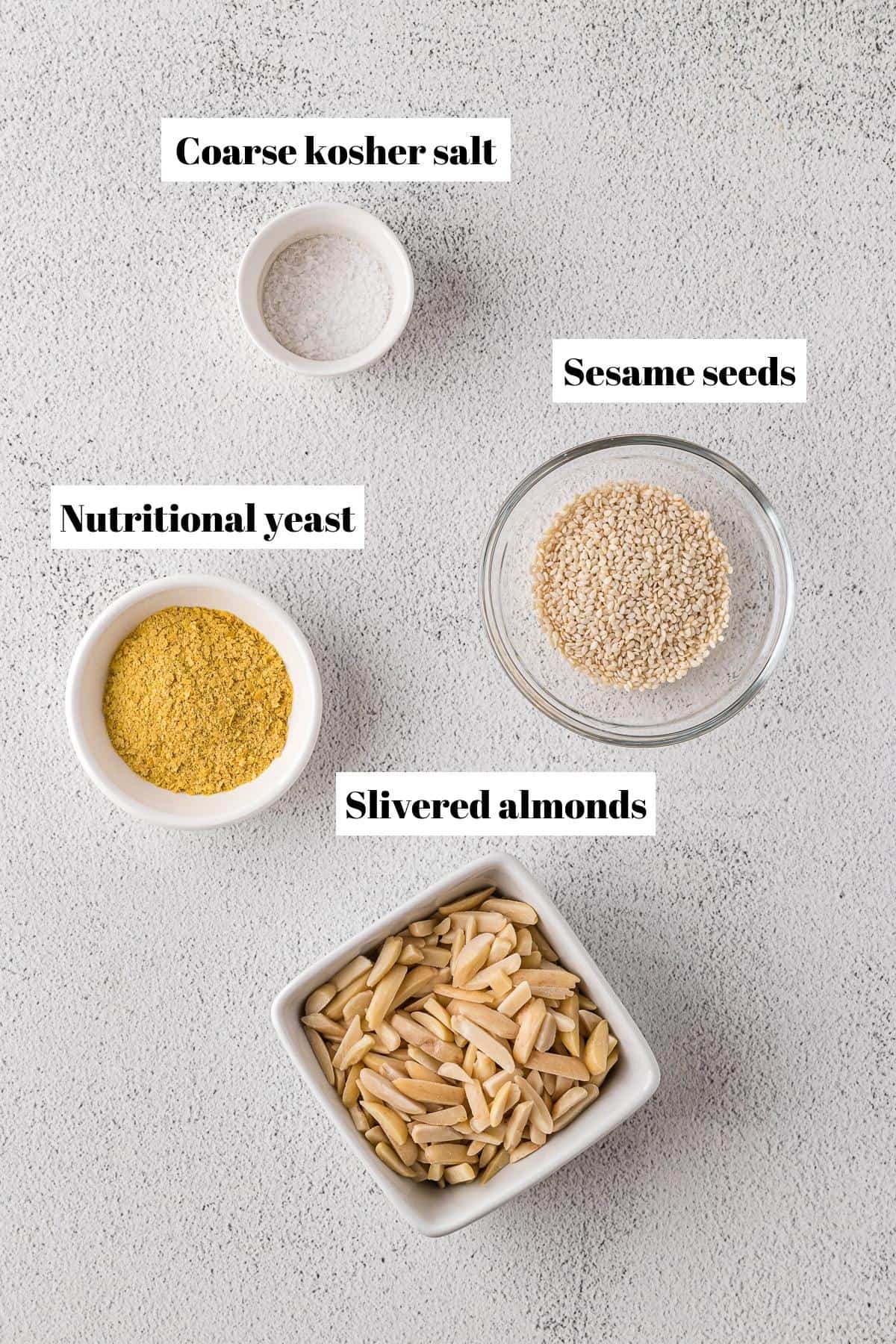 📝Ingredient Notes
Slivered almonds: You could use cashews, as most recipes do. I prefer slivered almonds over cashews because cashews have a more prominent flavor. I feel that the almonds don't stand out as much.
Sesame seeds: They're light in flavor, very nutritious, and give the cheese a nice texture.
🥜Substitutions
Almonds: You can also use cashews or walnuts.
Sesame seeds: Use hemp seeds in place of sesame seeds.
🧄Variations
Garlic and onion powder: These spices will make the dairy-free parmesan taste savory, delicious, and irresistible. I would start with ¼ teaspoon of each.
Lemon pepper seasoning: Adding a little bit of lemon flavor mimics the tanginess of real cheese. Start with ¼ teaspoon. You may want to cut back on the salt, though, because lemon pepper seasoning can be a little salty. It's best to add a little at a time and add to taste.
🔪Equipment
🥣How to Make Dairy-Free Parmesan Cheese
Add the ingredients to a small food processor.
2. Blend until you have a finer texture with some gritty pieces. Be careful not to over-blend.
🧊Store
It's preferred to store the parmesan in the refrigerator in an airtight container. This will prolong its shelf life, and make it last for up to 3 months. Or you can store it at room temperature in an airtight container for a few weeks.
✅Pro Tips
Add salt to taste
Store in the refrigerator for a longer shelf life
Don't over-blend: Blending for too long can turn your dairy-free parmesan into nut butter.
⁉️Frequently Asked Questions
Does this dairy-free parmesan melt?
No. This is not a meltable dairy-free cheese. It's a replacement for powdered parmesan cheese.
What is dairy-free parmesan?
Dairy-free parmesan is an alternative to parmesan cheese. It's either made in a sprinkle cheese form like this recipe, or a wedge that can be grated. The sprinkle dairy-free parmesan is usually made from nuts like cashews, or almonds, nutritional yeast, salt, and sometimes savory spices. Store-bought dairy-free parmesan wedges are usually made from ingredients like coconut oil, potato and rice starch, rice protein, olive extract, salt, and flavoring.
Where can you buy dairy-free parmesan cheese?
Stores like Walmart, Whole Foods, Trader Joe's, and Amazon are places that usually carry vegan cheeses. In-store availabilities can vary at Walmart, so you may have to check if your store carries any.
Is this recipe vegan?
Yes. This recipe can also be considered vegan parmesan cheese because it does not contain any animal products.
🥗Serving Ideas
Spaghetti
Dairy-free lasagna
Dairy-free pizza
Soups and salads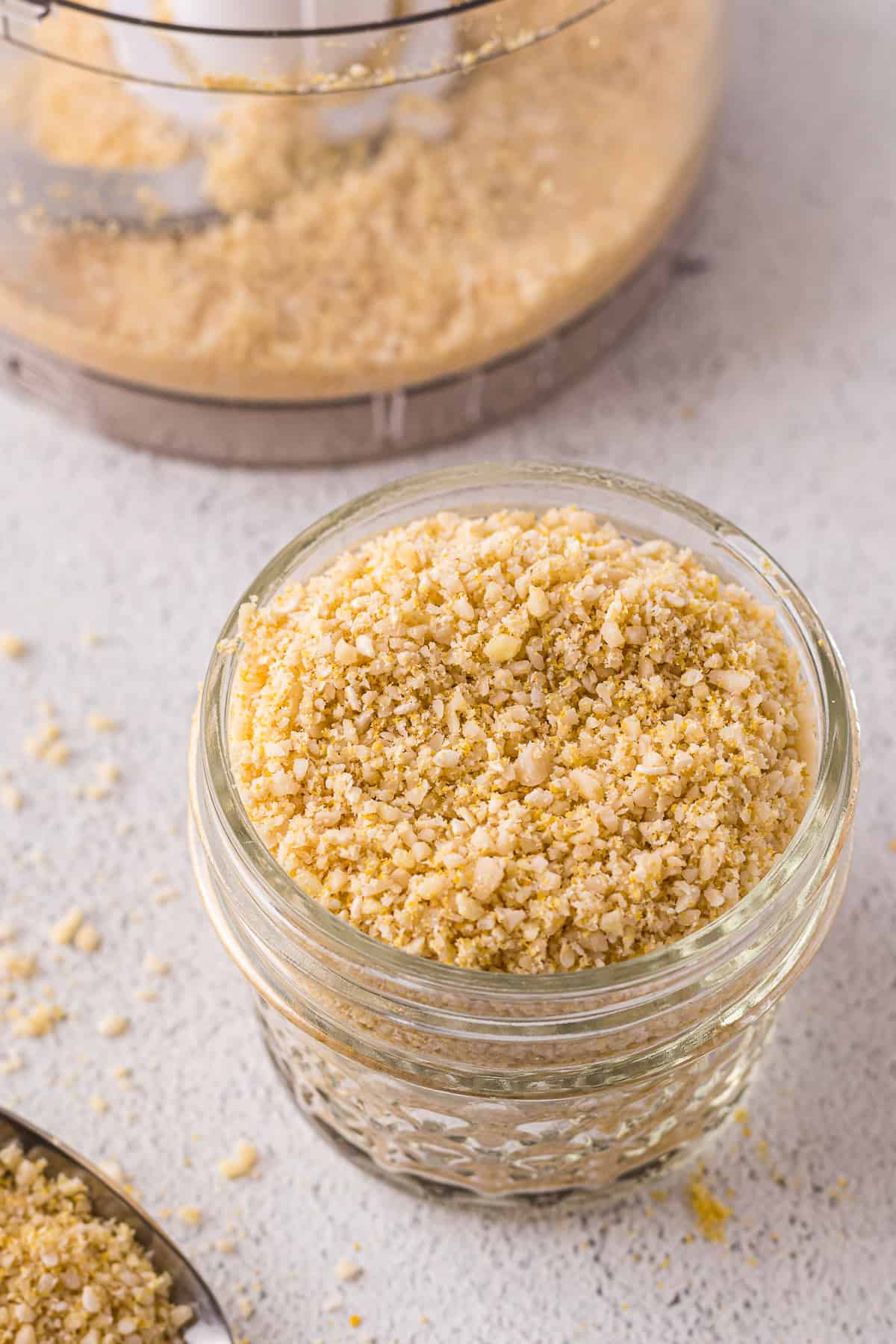 ⭐️Before you go! If you loved this recipe for my Dairy-Free Parmesan Cheese, leave a review and share it with me! I love to hear from you.
📖 Recipe
Dairy-Free Parmesan Cheese
This Dairy-Free Parmesan Cheese has a crumbly texture with a cheesy and salty flavor. It's perfect for sprinkling on pastas, and salads!
Ingredients
½

cup

slivered almonds

1

tablespoon

white sesame seeds

1

tablespoon

nutritional yeast

¼ to ½

teaspoon

coarse kosher salt

see notes
Instructions
Place all the ingredients in a food processor and process until the mixture is finely ground.

Store in an airtight container in the refrigerator for up to 3 months.

Enjoy!
Notes
If you don't want your parmesan to taste very salty, start with

¼ teaspoon salt and add up to ½ teaspoon if desired.

Coarse kosher salt measures differently than finer salts. If you are using a finer salt, try using less and build up to your taste.
Nutrition
Serving:
1
tablespoon
Calories:
24
kcal
Carbohydrates:
1
g
Protein:
1
g
Fat:
2
g
Saturated Fat:
0.2
g
Polyunsaturated Fat:
1
g
Monounsaturated Fat:
1
g
Trans Fat:
0.001
g
Sodium:
36
mg
Potassium:
36
mg
Fiber:
1
g
Sugar:
0.1
g
Vitamin A:
0.1
IU
Calcium:
14
mg
Iron:
0.2
mg
Note: The nutrition label is only an estimate. Amounts may vary.