The taste of matcha is earthy and grass-like. Add some creamy milk, sweetener, and vanilla, and you have a cozy and addicting Vanilla Matcha Latte.
If you want an iced matcha latte, pour this hot matcha over cold plant-based milk and ice.
And if you'd like more latte recipes, try my Healthy Pumpkin Spice Latte or my Rose Latte. They are so indulgently delicious that you wouldn't know they're good for you.
Jump to:
🍵What is Matcha?
Matcha is a type of Japanese green tea made from young tea leaves that are ground into powder. These leaves are grown in the shade, which enhances the growth of compounds like chlorophyll, theanine, and caffeine. Its particular flavor and chemical composition make it the highest quality tea. Matcha also has high antioxidant and anti-inflammatory properties, making it very healthy to drink. The quality of matcha depends on several factors, such as where it's grown, when it's harvested, and how it's processed.
There are two types of matcha grades: ceremonial and culinary. Ceremonial matcha is considered the highest grade. It's made from the youngest tea leaves, so it has a delicate, natural, and sweet flavor. Culinary matcha is harvested after the ceremonial grade, so its leaves are older and exposed to sunlight longer. It has a bolder and more rich flavor. The culinary grade also has a more bitter taste than the ceremonial grade.
Ceremonial grade is used for making a traditional matcha tea. Culinary grade is used for lattes, baking, smoothies, and even skincare.
❤️Why You'll Love this Recipe
It's quick to make: You can have this latte ready in 5 minutes or less.
Budget-friendly: This latte is much cheaper than the Starbucks version. The ingredients should be available at most grocery stores (like Walmart), and you can make multiple lattes with most of them.
Matcha has unique health benefits: It's high in antioxidants and may promote liver, heart, and brain health.
🌿What Are the Health Benefits of Drinking Matcha Lattes?
High in antioxidants: Matcha tea has a high level of antioxidants, which protect against free radicals that can damage cells.
May boost brain function: Matcha contains a compound called L-theanine which promotes alertness and helps avoid the crash of caffeine.
May help prevent cancer: Some studies suggest that matcha has powerful anti-cancer properties.
May promote heart health: Some studies also suggest that matcha can reduce the risk of heart disease and stroke.
I want to note that these are benefits of matcha tea (which is the base of a matcha latte). These teas do not have added sugar, whereas lattes do. You should not consume excess amounts of matcha lattes that are high in sugar. You can read more about the health benefits of matcha tea here.
📝Ingredient Notes
Matcha: I use culinary grade matcha, but you could use ceremonial grade. You can either find these at grocery stores like Walmart or somewhere online such as Amazon.
When buying matcha, look for brands that have a bright green color (not dull or yellow-ish) and are grown in Japan.
Cinnamon: This is an optional ingredient, but it's highly recommended because it helps balance the bitterness of the matcha.
Pure maple syrup: This is not the same as pancake syrup. The only ingredient in pure maple syrup is maple syrup.
🍯Substitutions
Matcha: Without actual matcha, it won't be a matcha latte. However, you can brew some green tea in water and prepare this latte the same. Additionally, I love to use both! Matcha and green tea mixed together in a latte is so delicious.
Plant-based milk: While some milks froth better than others, you can use whatever milk you like. As mentioned above, I like to use ones that are creamy or high in fat like creamy oat milk, coconut milk (from the carton) or even homemade cashew milk. If you are a fan of soy milk, it's also a great option to use because it froths well. I also use milk that is unsweetened so that I can control how much sweetener is in my latte but the option is yours. If you prefer a sweetened milk, you may decide to omit maple syrup from the recipe.
Pure maple syrup: Honey can be used in place of maple syrup. You can also use other sweeteners you like such as date syrup or agave syrup. Adjust measurements to taste.
Vanilla: In a typical vanilla matcha latte from Starbucks, they use a vanilla syrup. You can definitely use that over the vanilla and pure maple syrup if you prefer. You could even use vanilla bean paste for an intense vanilla flavor.
🥄How to Make a Vanilla Matcha Latte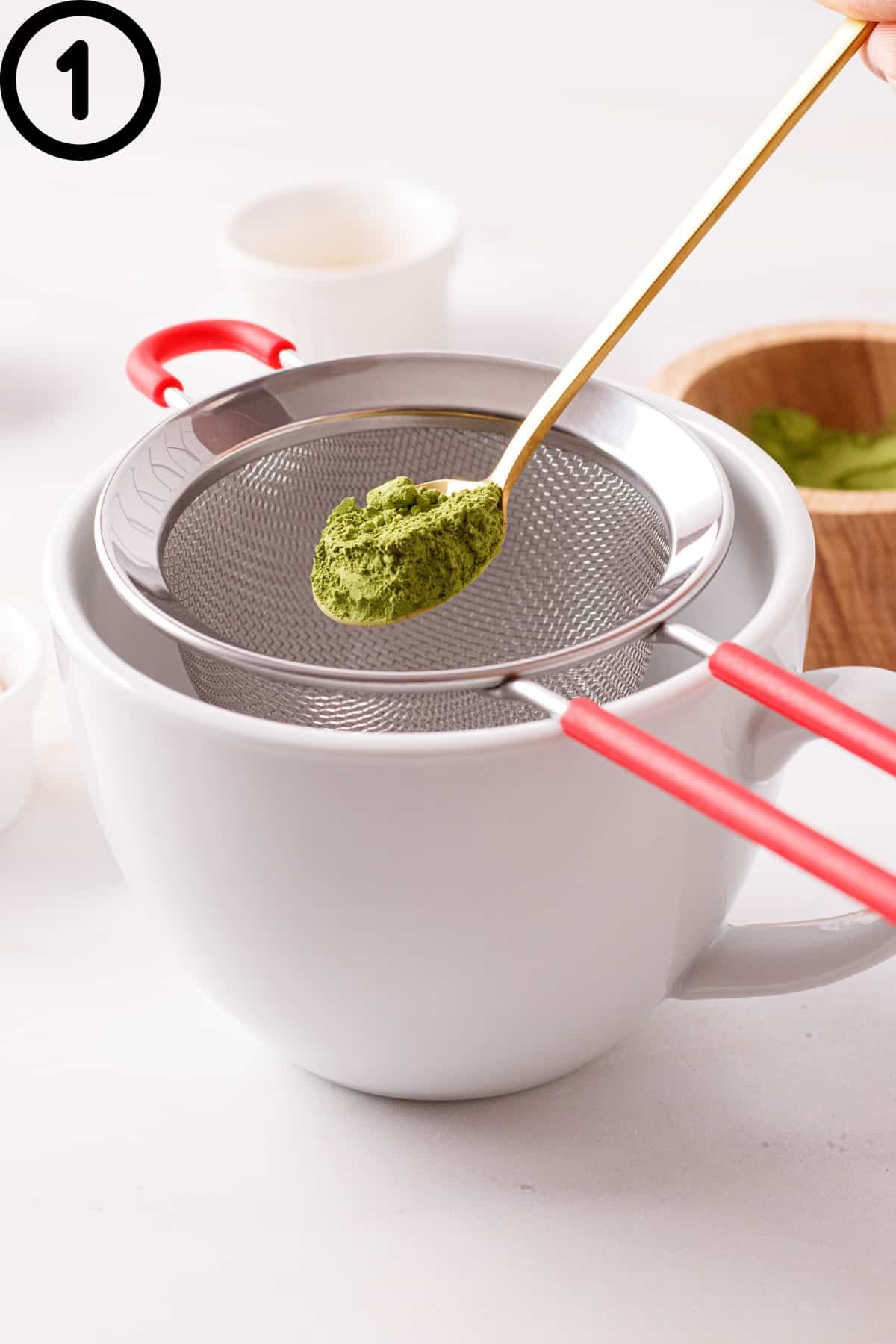 Sift the matcha into a mug.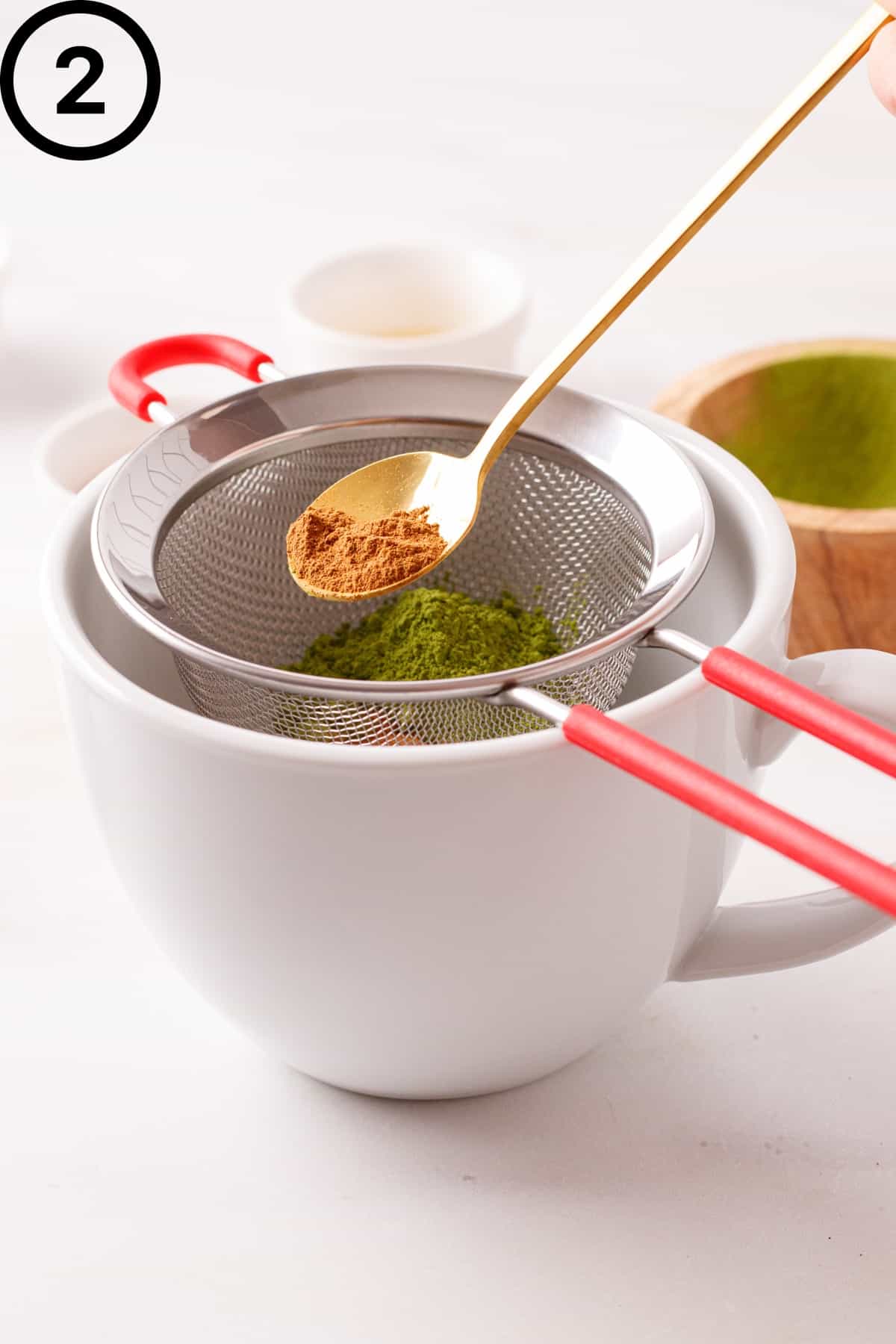 2. Then sift the cinnamon.
3. Pour the hot water into the mug.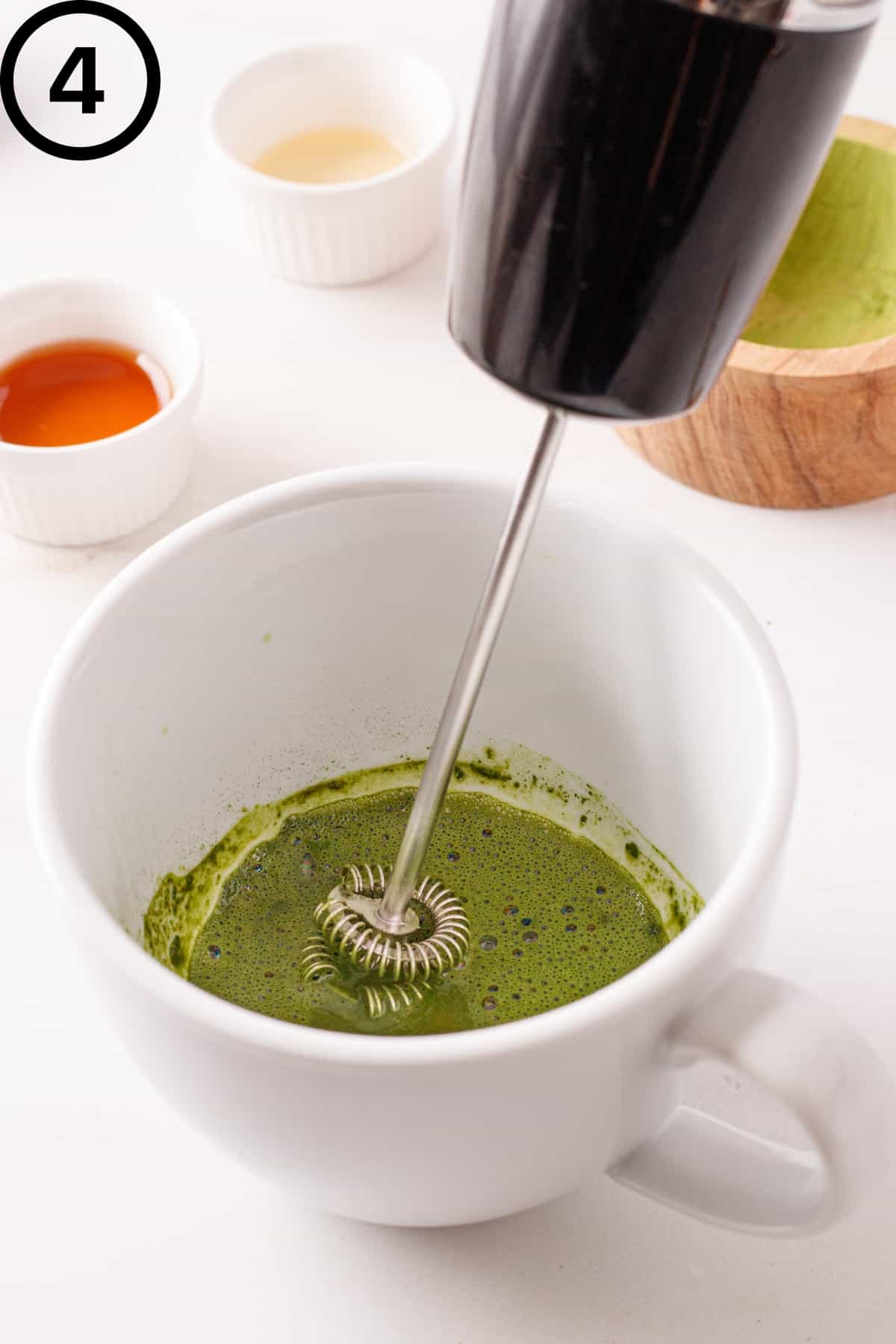 4. With a frother or whisk, mix it until no lumps remain.
5. Add in the pure maple syrup.
6. Then add the vanilla and mix it.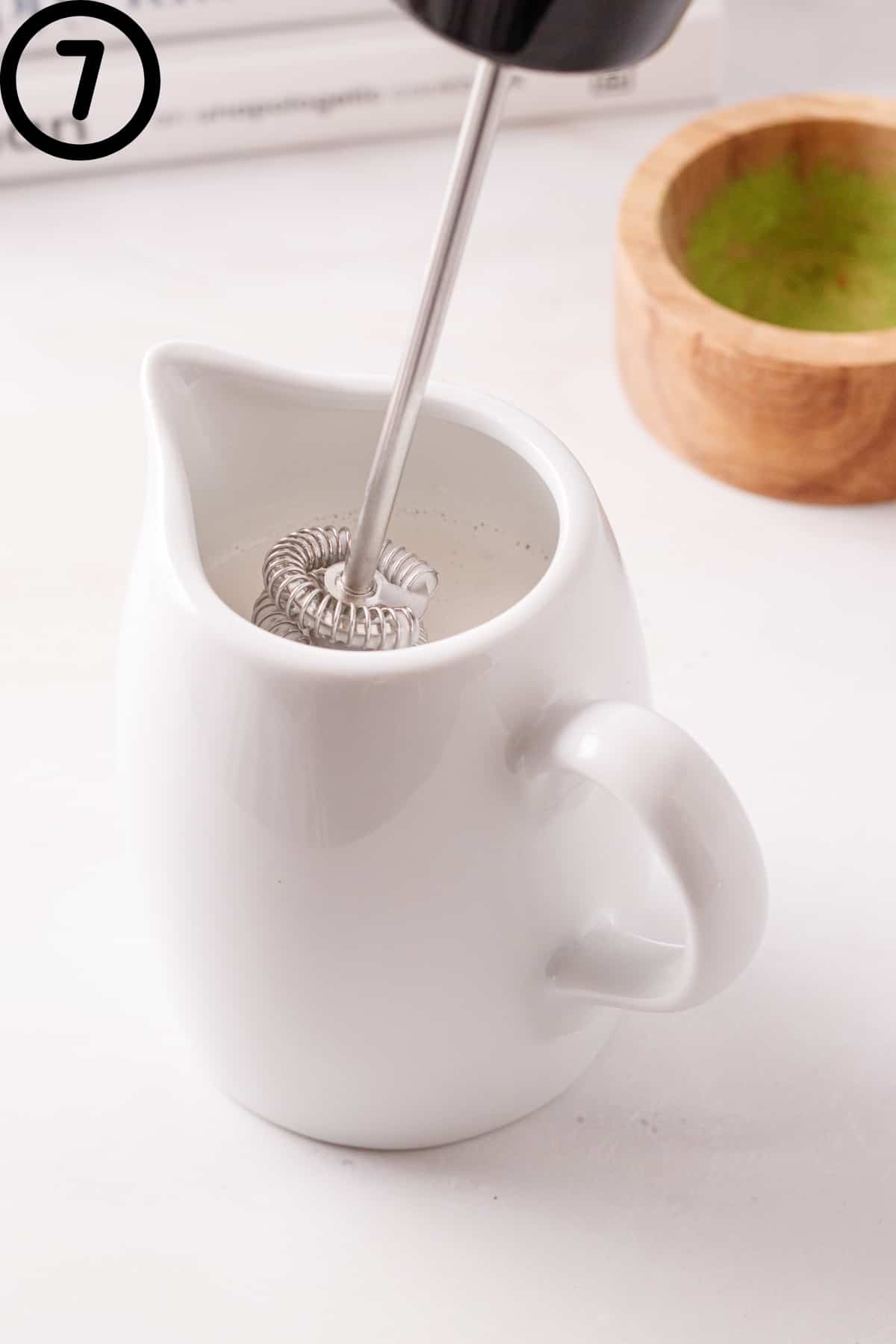 7. Froth the hot plant-based milk.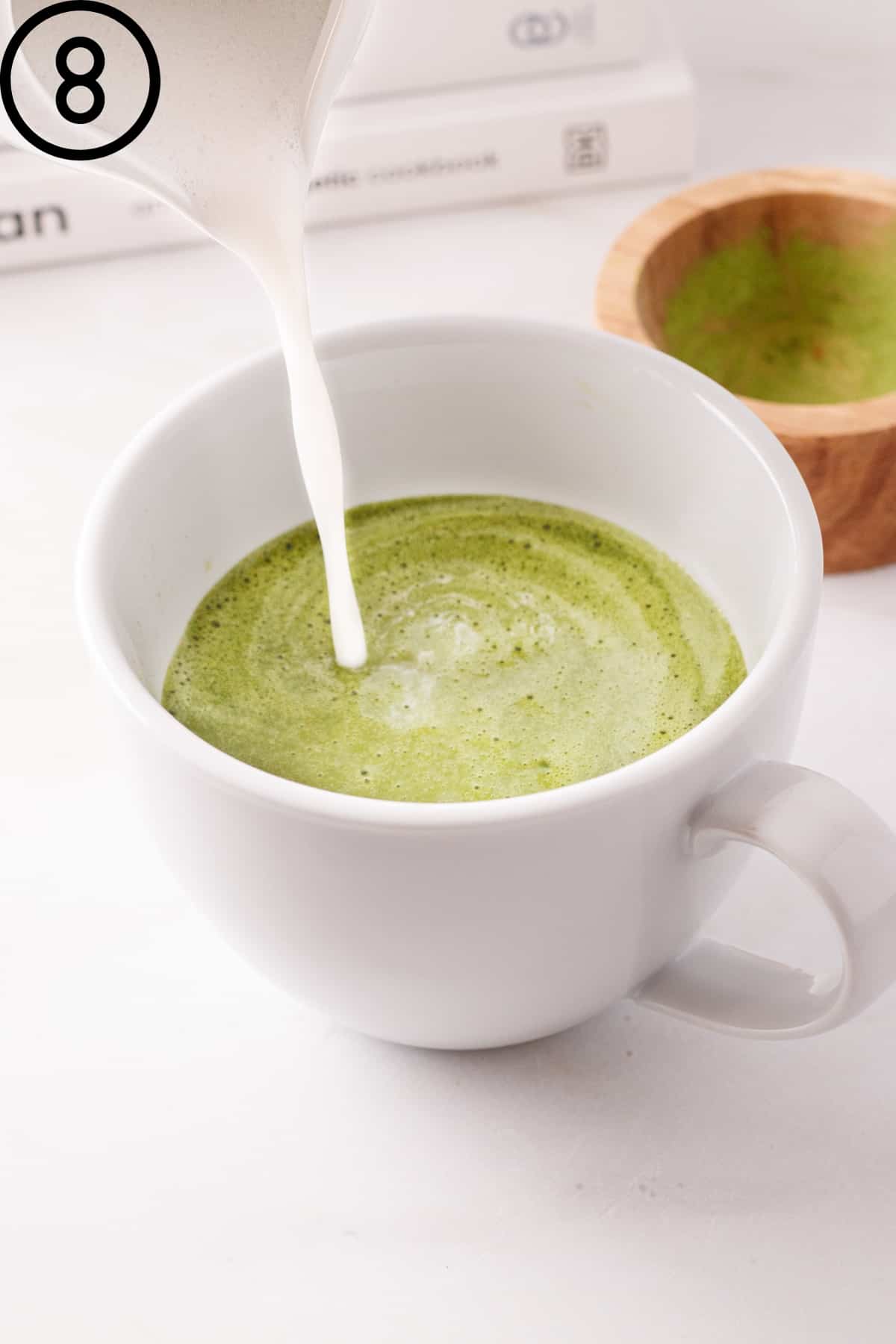 8. Pour the milk over the matcha. Mix again to combine.
Enjoy!
🔪Blender Instructions
Sift the matcha into a blender that can handle hot liquids.
Add the remaining ingredients and blend until no lumps remain.
Pour into a mug and enjoy!
🥣Equipment
Milk frother: I use this Immersion blender with a milk frother attachment. Use the frother to mix the matcha with the hot water so that the matcha is lump free. Then froth the milk so that it's nice and foamy.
Small whisk: If you do not have a frother like the one I linked above, you'll need a small whisk to mix the matcha.
Mini sift: I use a small sift to help remove lumps from the matcha.
I do not have one of these yet, but this is a matcha set designed for making matcha. It comes with a matcha bowl and bamboo whisk for whisking, a matcha scoop, a sifter, and a whisk stand. It isn't necessary, as a milk frother can do the job. But a matcha set is used for tea ceremonies in Japanese culture. It's said that how the matcha is prepared affects the taste and that it's an art form.
✅Pro Tips
Measure to taste: Add more or less of the ingredients to fit your preference. If you want more matcha flavor, add ¼ teaspoon more at a time. I would dissolve it in a little hot water, then mix it. If you'd like less matcha flavor, try adding a little more milk. And lastly, if you want your latte sweeter, add a little more sweetener at a time.
Don't use boiling water: This can burn the matcha and give it a bitter taste. The water should be hot, but not boiling hot.
Sift and thoroughly whisk the matcha: This ensures that lumps do not remain in your tea. Lumps of matcha that didn't get whisked are undesirable to drink.
Use plant-based milk that you enjoy the taste of: I recommend using a creamy or high-fat one such as coconut milk, creamy oat milk, or cashew milk.
Add cinnamon: Cinnamon helps counteract the bitter taste of matcha.
🧊Storing
You can store leftover matcha in an airtight glass jar in the refrigerator for 1 to 2 days. Warm it back up in the microwave (for about a minute) or on the stove, then mix it well before serving.
Make ahead of time: You can prepare the matcha and store it as directed above in the refrigerator. Warm it up in the morning, or enjoy it chilled over ice for an iced vanilla matcha latte.
⁉️Frequently Asked Questions
Is matcha healthier than coffee?
Matcha and coffee both offer health benefits when consumed in moderation. Coffee gives an instant boost of energy, can increase alertness, and reduce tiredness. Matcha may boost energy at a slower rate than coffee. It's also said that matcha gives fewer caffeine jitters than coffee and is less acidic. This article discusses some of the shared benefits of matcha and coffee, as well as their main differences.
Does matcha go well with vanilla?
Yes, it does. Vanilla helps smooth out the sharpness of the matcha, and also adds a rich, sweet flavor that complements the bitterness.
Does a matcha latte give you energy?
Matcha does give you a boost of sustainable energy with potentially fewer jitters than a cup of coffee. Because of the L-Theanine in matcha, the caffeine is absorbed and released slowly in the body.
Can I make a matcha latte without a frother?
Yes. You can skip frothing the plant-based milk, and use a bamboo whisk or any small whisk to mix the matcha.
How much caffeine is in a matcha latte?
The average amount of caffeine for 1 teaspoon of matcha is 64 milligrams.
⭐️Before you go! If you enjoyed this recipe for my Vanilla Matcha Latte, leave a review and share it with me! I love to hear from you. Also, if you aren't following me on Instagram, search @thedairyfreemenu for some more cooking inspiration!
📖 Recipe
Vanilla Matcha Latte
The taste of matcha is earthy and grassy. When it's met with creamy plant-based milk, pure maple syrup, cinnamon and vanilla, you get a delicious Vanilla Matcha Latte.
Equipment
Frother, bamboo whisk, or a small whisk

Mini sift
Ingredients
1

teaspoon

matcha

¼

teaspoon

cinnamon

optional, but recommended

2

tablespoons

hot water

not boiling

1

teaspoon

vanilla extract

1 ½

teaspoon

pure maple syrup

or honey

1

cup

hot plant-based milk

unsweetened
Instructions
Sift the matcha (and cinnamon if using it) into a mug.

Mix the hot water with the matcha until no lumps remain.

Mix in the pure maple syrup and vanilla.

Froth the hot plant-based milk and pour it over the matcha. Mix to combine.

Enjoy!
Notes
Cinnamon helps balance the bitterness of the matcha (and gives the latte a warmer flavor), which is why I recommend using it. 
Use a plant-based milk you enjoy the taste of. I recommend using a creamy or high-fat one such as creamy oat milk or coconut milk (from a carton). 
Coconut milk (where the only ingredient is either just coconut milk or coconut milk and water) froths very well.
If you want a stronger matcha flavor, add an extra 

¼ teaspoon of matcha.

For an iced vanilla matcha latte, prepare the hot matcha per recipe instructions. Then add your milk of choice to a glass with ice, and pour the hot matcha over the top.
Nutrition
Calories:
165
kcal
Carbohydrates:
16
g
Protein:
10
g
Fat:
5
g
Saturated Fat:
0.5
g
Polyunsaturated Fat:
3
g
Monounsaturated Fat:
1
g
Sodium:
121
mg
Potassium:
364
mg
Fiber:
1
g
Sugar:
13
g
Vitamin A:
1229
IU
Vitamin C:
17
mg
Calcium:
348
mg
Iron:
2
mg
Note: The nutrition label is only an estimate. Amounts will vary depending on products (especially plant-based milks) you use.