If you are a lover of comfort foods, you will love this Dairy-Free Chicken and Rice Casserole. It's packed with flavor and it's one of my friends and family's favorite meals I've fixed. This chicken and rice is unlike any you've had before, and it all comes down to the secret ingredient: homemade cream of chicken soup.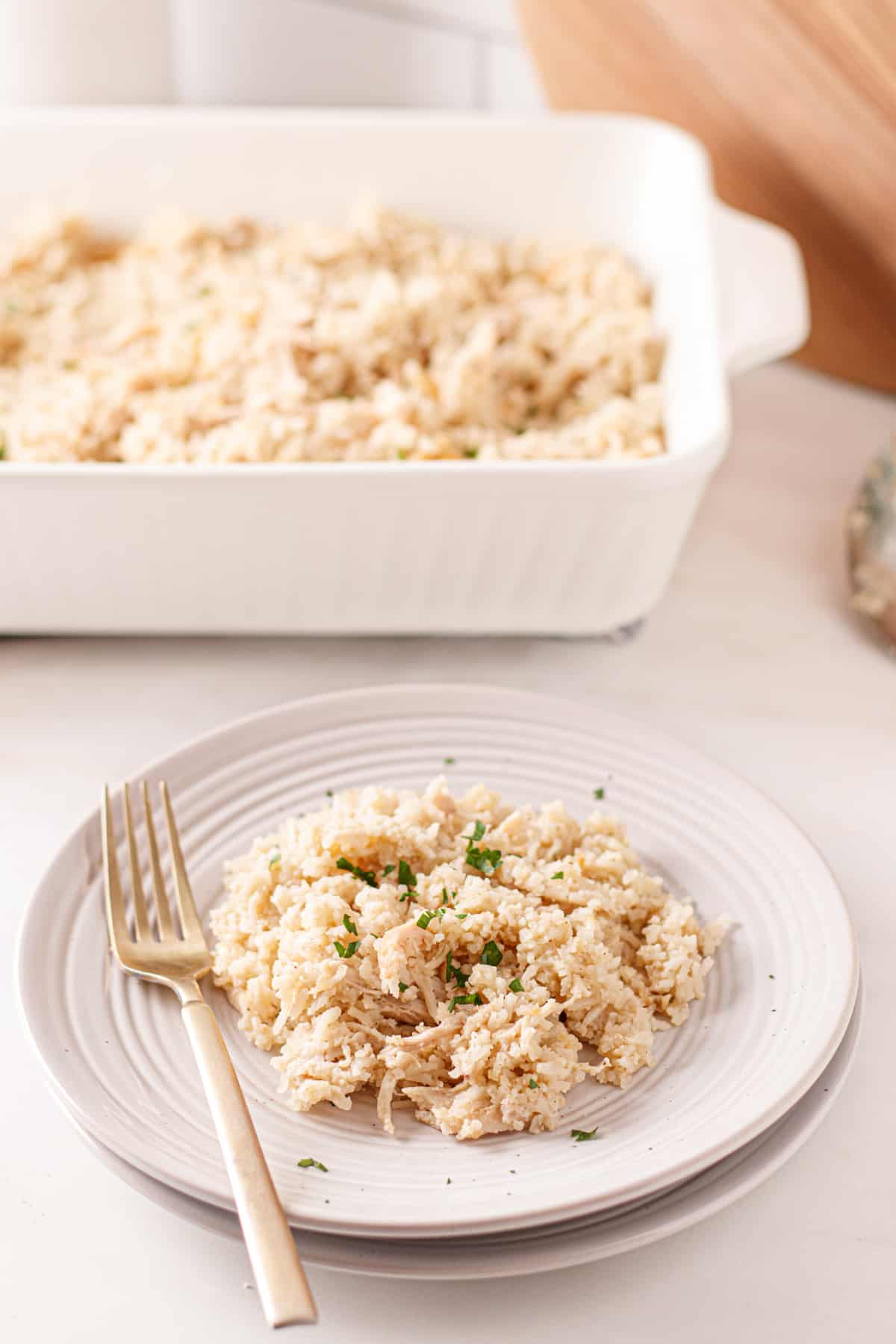 Try my air-fryer broccoli and cauliflower recipe to serve on the side for something that's light, bright and healthy. This side dish can be ready to serve with your chicken and rice casserole in less than 15 minutes!
Jump to:
❤️Why You'll Love this Recipe
The flavor is out of this world!
It's kid friendly!
You can meal prep it to enjoy for the week ahead.
You need minimal ingredients.
It's so easy and quick to make!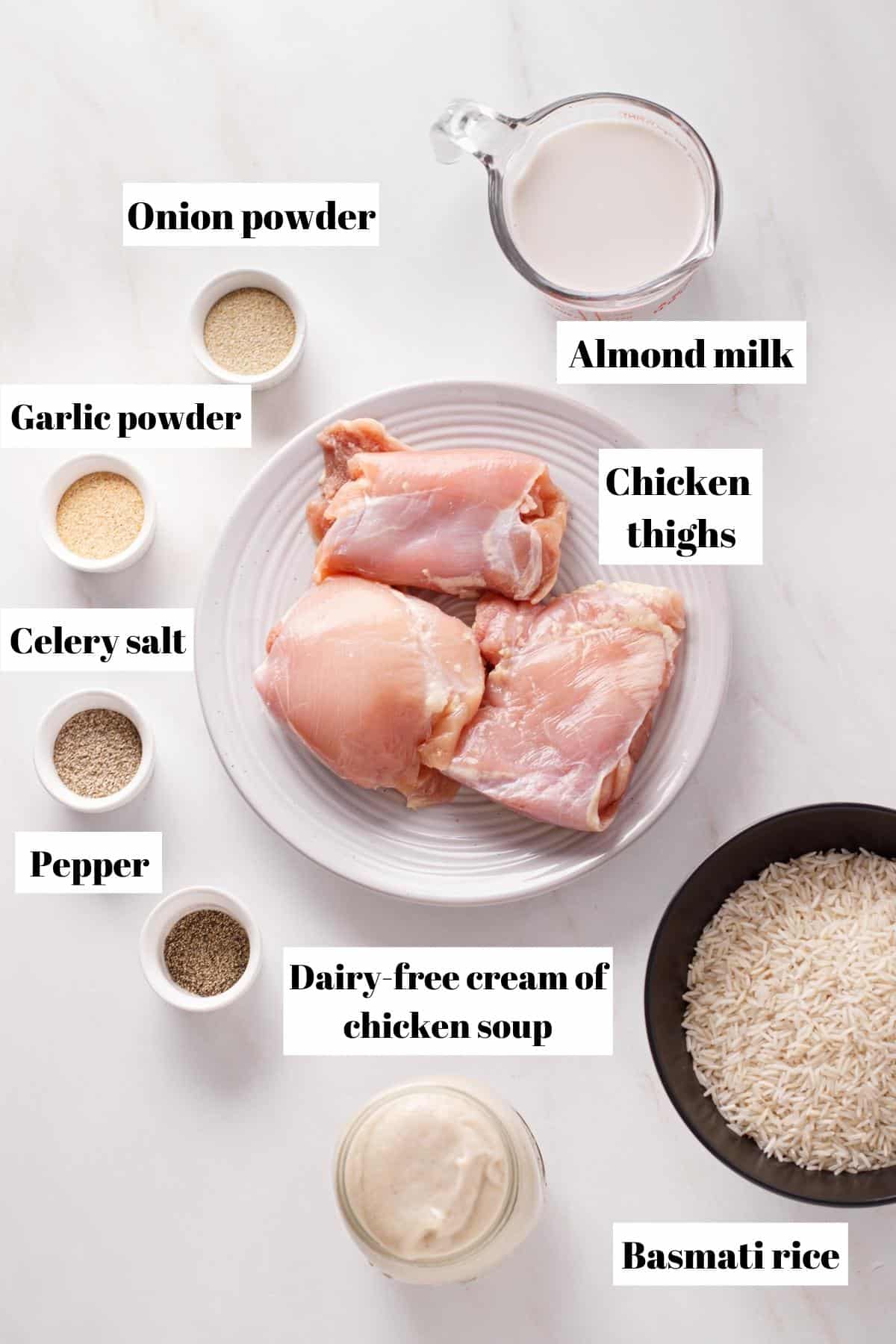 📝 Ingredient Notes
Basmati Rice

Chicken thighs: my original recipe just used leg quarters (skin and all) because it gives a delicious flavor. However, these days I find myself only using boneless chicken thighs for simplicity's sake.

Almond milk: I love to use my own homemade almond milk recipe! The flavor is incomparable to store-bought versions and really takes your dishes to the next level!

Pepper: I normally use white pepper for this recipe, but I sometimes use black pepper and it works just fine.

Homemade dairy-free cream of chicken soup: lo and behold! The secret ingredient. You don't even have to be dairy free to make cream of chicken soup from scratch. Just making this homemade will leave your taste buds unsatisfied with the stuff from the can. Not even Campbells can compete.
🍗 Substitutions & Additions
Milk: If you don't have almond milk or don't want to make my homemade version, some other good milk substitutes are unsweetened coconut milk (from the carton, not canned!), cashew milk (you can find my easy, homemade version here or just buy some from the store) or oat milk.

Chicken: for a leaner option, you can definitely use chicken breasts or chicken tenderloins. If you want to make it using rotisserie chicken, you would want to add the shredded rotisserie chicken after the rice comes out of the oven.

Additionally, for a vegetarian option you could of course leave out the chicken and use vegetable broth for the soup mixture.

Broccoli could easily turn this recipe into a delish, dairy-free chicken broccoli and rice casserole!
🔪 Instructions
Start by preheating your oven to 350 degrees Fahrenheit.
Next, make the dairy-free cream of chicken soup.
In a large mixing bowl, mix together all of the ingredients except for the raw chicken.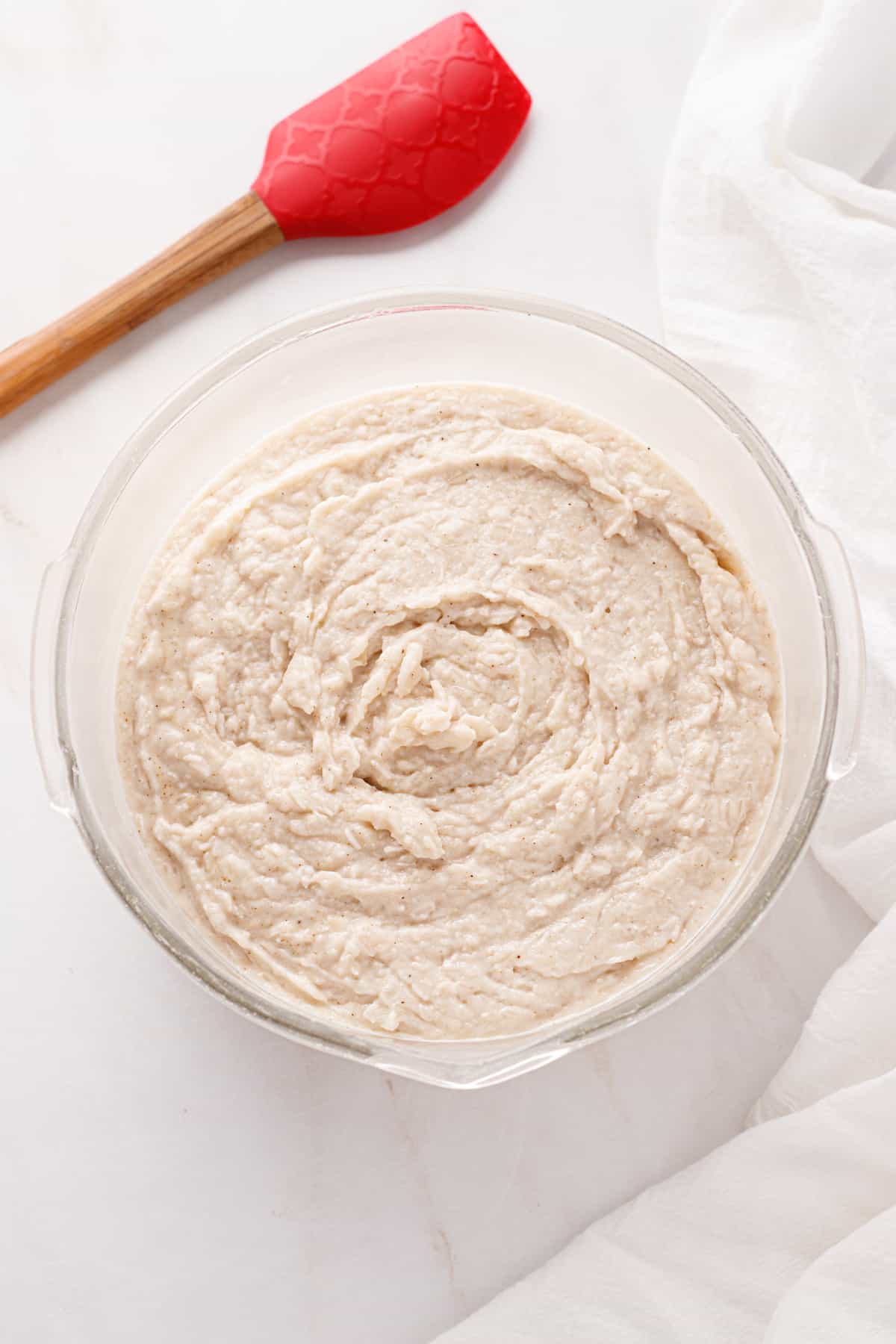 Get out a 13x9 inch casserole dish and spray it with cooking spray to help keep the contents from sticking.
Pour the mixture into the bottom of the casserole dish.
Then, add the chicken thighs on top of the casserole.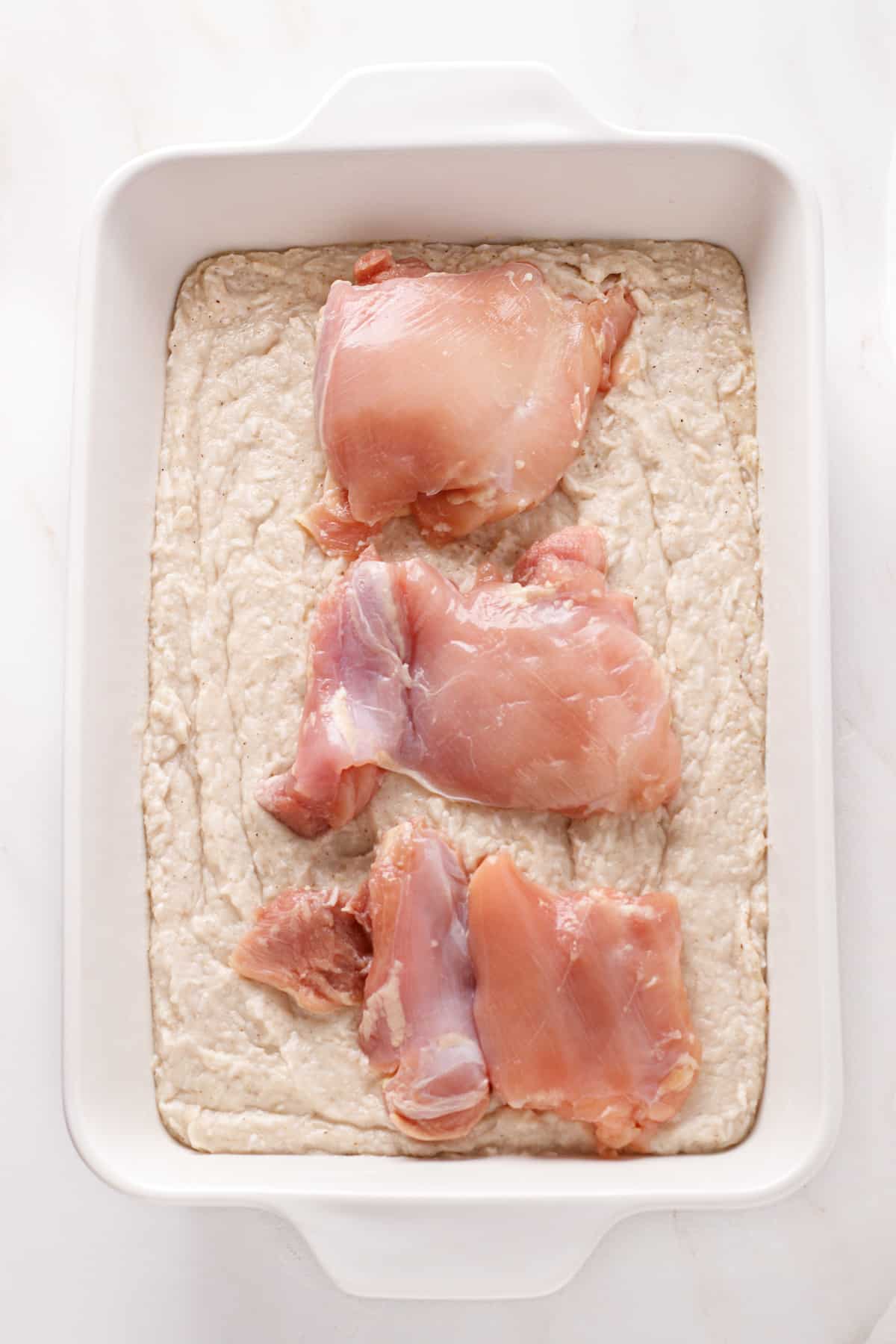 Place the casserole in the oven, uncovered, for about 1 hour.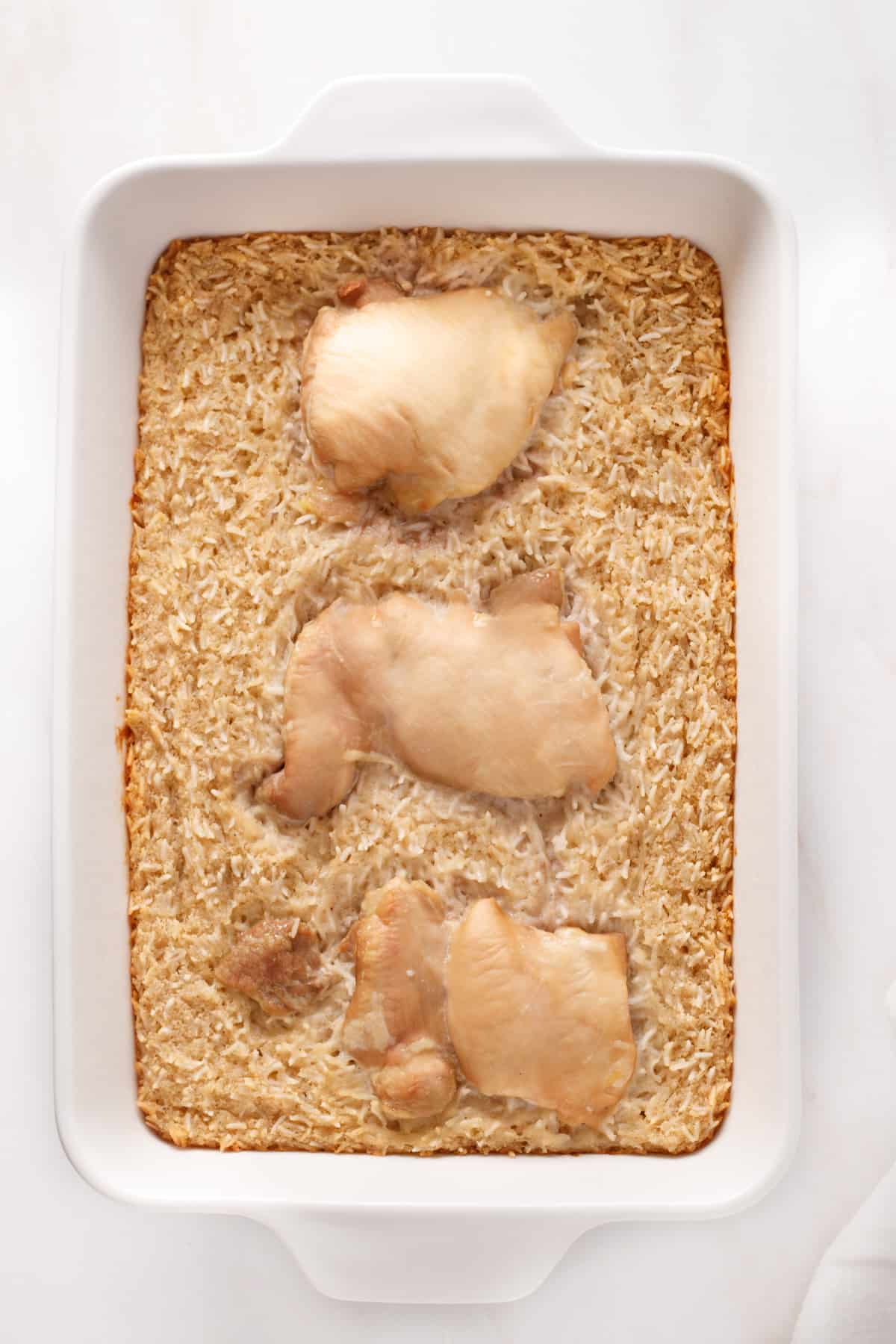 Once the casserole is finished cooking, carefully remove the chicken (it will be very hot) and shred it using two forks.
Lastly, add the shredded chicken back into the casserole dish and mix it in with the rice.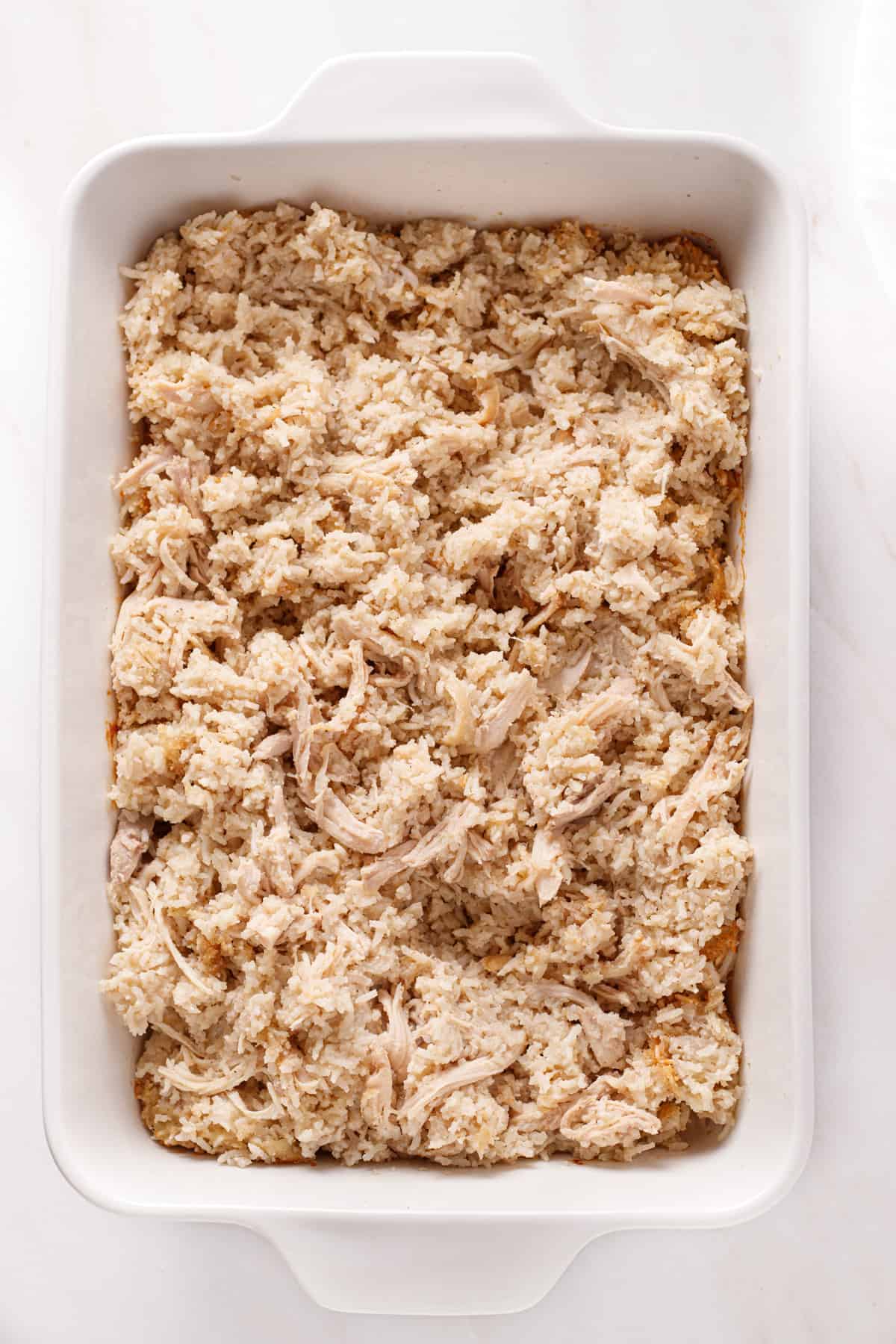 By the time you shred the chicken, the casserole should be cooled enough to eat.
Enjoy!
🧊 Storing
Store the leftover chicken and rice in an airtight container in the refrigerator and eat within 3-4 days. Keep reading for answers on freezing options.
❓ Frequently Asked Questions
Can you freeze chicken and rice?
Yes! You can freeze chicken and rice. Make sure it has cooled completely (to keep it from becoming mushy) and then place it in a freezer safe, airtight container. Do note that the longer it's stored in the freezer, the more likely it is to dry out. Do not refreeze after reheating.
How do you reheat frozen chicken and rice casserole?
First of all, do not let the frozen chicken and rice thaw on the counter. Since there are meat ingredients, it poses a risk that can lead to food borne illness.

You can thaw it in the refrigerator in an airtight container, or in the microwave on a defrost setting in a microwave safe bowl. Once it's completely thawed, you can heat it in the microwave until it's hot all the way through. If the rice is too dry, try adding a tablespoon of dairy-free milk at a time.
Can you make it in a slow cooker?
Yes. You can. But it's definitely not my first option. If you want to go this route, simply prepare everything exactly as you would if you were going to put it in a casserole dish. Don't forget to spray the bottom of the crockpot.

Turn on low and cook for about 4 ½ hours. It doesn't take very long. If you cook it longer, you'll run into the chance of it drying out.
Can you make it gluten free?
Yes! Just substitute a good all-purpose gluten-free flour in place of the regular flour in the cream of chicken soup!
Can you use minute rice?
Since we are using cream of chicken soup, and a lot of it, it's best not to use minute rice so that the soup has plenty of time to cook into the rice giving it the flavor and consistency it has.
I like to use Bob's Red Mill 1:1 Baking Flour. It's also great for sauces, gravies and more!
⭐️Before you go! If you enjoyed this recipe for my Dairy-Free Chicken and Rice Casserole, leave a review and comment down below to share it with me! I love to hear from you. Also, if you aren't following me on Instagram, search @thedairyfreemenu for some more cooking inspiration!
📖 Recipe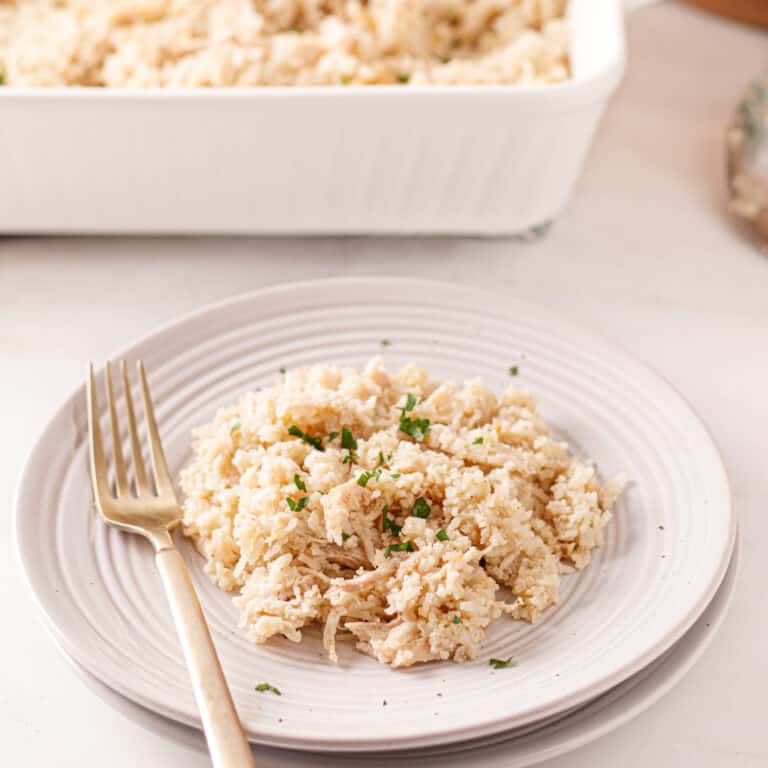 Dairy-Free Chicken and Rice Casserole
This easy Dairy-Free Chicken and Rice Casserole is one of my favorite comfort foods to cook. It's made with a quick, homemade cream of chicken soup that takes this recipe out of this world!
Ingredients
Dairy-Free Cream of Chicken Soup
3

cups

homemade dairy-free cream of chicken soup

full recipe linked & listed below

¾

cup

vegan butter (I use country-crock plant butter with avocado oil)

1 ½ sticks

¾

cup

flour

see notes

1 ½

cups

chicken broth

1 ½

cups

unsweetened almond milk

½

teaspoon

celery salt

¾

teaspoon

onion powder
Remaining ingredients
2

cups

basmati rice

uncooked

1

cup

almond milk

1

pound

boneless chicken thighs or leg quarters

2 ½

teaspoons

garlic powder

2 ½

teaspoons

onion powder

1 ½

teaspoons

celery salt

or to taste

¼

teaspoon

pepper
Instructions
Preheat the oven to 350 degrees Fahreinheit.
Make the Cream of Chicken Soup
Slice up your stick of butter and melt it in a pot over medium heat.

Slowly add the flour into the butter and whisk until smooth.

Pour in the chicken broth slowly while whisking. You want to add the liquids slowly to make sure the mixture remains smooth and lump free.

Slowly whisk in the almond milk. It will look thin at this point, so turn up the heat and let it come to a light boil while whisking constantly. It will thicken as it comes to a boil.

Remove it from the heat once it's very thick like a condensed soup. 

Mix the spices in and whisk.

Soup will thicken more as it cools.

Makes about 3 cups.
Prepare to Bake it
In a large mixing bowl, mix together all ingredients except for the chicken.

Spray a 13x9 in casserole dish with cooking spray and pour the rice mixture into the pan.

Add the raw chicken on top of the mixture.

Bake uncovered for 1 hour.

Remove the chicken on to a separate dish, being careful as the chicken will be very hot.

Shred the chicken then add it back in the casserole dish.

Enjoy!
Notes
If you are gluten free, when making the cream of chicken soup, you can use a gluten-free all-purpose flour in place of the regular flour.
When making the cream of chicken soup, if your mixture is too thin after adding all the liquids make sure to bring the soup to a 

light boil while whisking constantly to keep it from burning to the bottom. It will slowly begin to thicken as it softly boils. Once it has a thick, condensed soup consistency, remove it from the heat. It will thicken even more as it cools.
Nutrition
Calories:
461
kcal
Carbohydrates:
48
g
Protein:
15
g
Fat:
19
g
Saturated Fat:
9
g
Polyunsaturated Fat:
3
g
Monounsaturated Fat:
10
g
Cholesterol:
45
mg
Sodium:
1035
mg
Potassium:
121
mg
Fiber:
1
g
Sugar:
1
g
Vitamin A:
1
IU
Vitamin C:
3
mg
Calcium:
116
mg
Iron:
1
mg
Note: The nutrition information is just an estimate. Amounts may vary.