Blueberries are a powerful superfood! Add more of them to your diet with this easy and homemade Blueberry Juice Recipe. You only need a few ingredients, a high-speed blender, and a few minutes.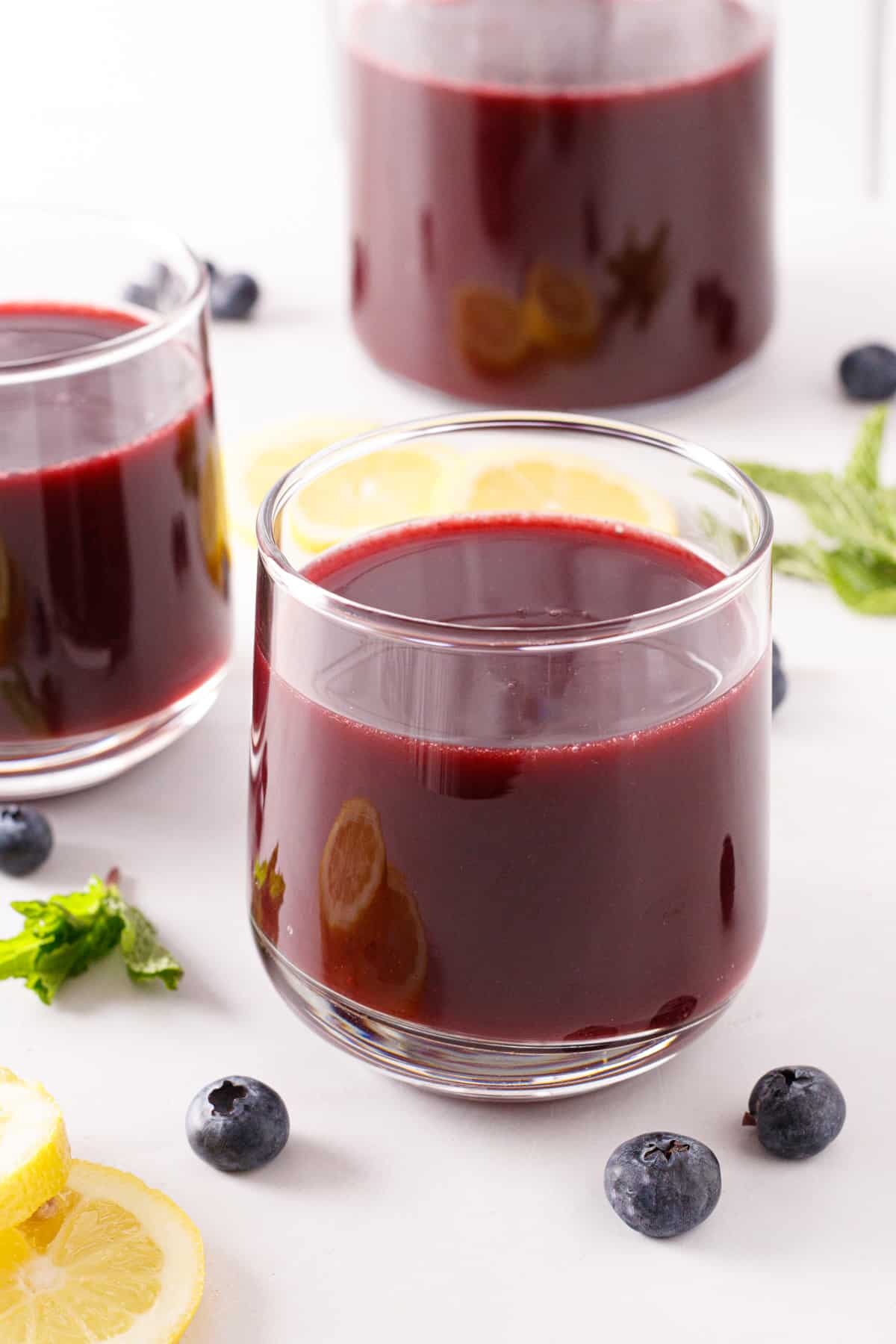 Want more blueberry recipes to try? Here is one of my all-time favorites: Blueberry Toast. Just toast some bread with vegan cream cheese, then top it with a quick and delicious blueberry compote.
Jump to:
🧃About this Recipe
Juicing a fruit or vegetable is typically done with a mechanical juicer. Simply put, this machine extracts the water content and removes the pulp/fiber of the fruit. This blueberry juice recipe is made with a high-speed blender, which retains the fibers (making it more nutritious), and keeps juicing easy and affordable. You also do not need a fine mesh strainer. If you have a high-speed blender, the remaining pulp will be minute and not thick.

This juice has a fresh blueberry flavor with a hint of honey. It isn't too sweet, but you can always add more sweetness to your preference. I usually like to keep the added sugar content on the lower side.
❤️Why You'll Love It
It's affordable: Fresh blueberries can cost more money, but frozen blueberries are more affordable. They make this recipe more cost-efficient.
You only need a few minutes to make it: Add four ingredients to a high-speed blender, and blend until smooth!
It's packed with nutrients: Keep reading to see all the health benefits of blueberry juice.
It's delicious and easily customizable: This juice is fresh tasting with a hint of sweet honey and lemon. You can customize the amounts to your liking.
🌿Benefits of Blueberry Juice
Nutritious: Blueberries are low-calorie and high in nutrients.
Rich in antioxidants: Antioxidants help protect cells from damage by free radicals and can help reduce inflammation in the body.
May help protect against cancers: Some studies suggest that blueberries may help reduce the risk of certain cancers.
Can help promote heart health: Blueberries may help reduce the risk of heart disease. It may also help lower blood pressure.
Boosts brain function: Some studies suggest that blueberries can help improve memory and cognitive function.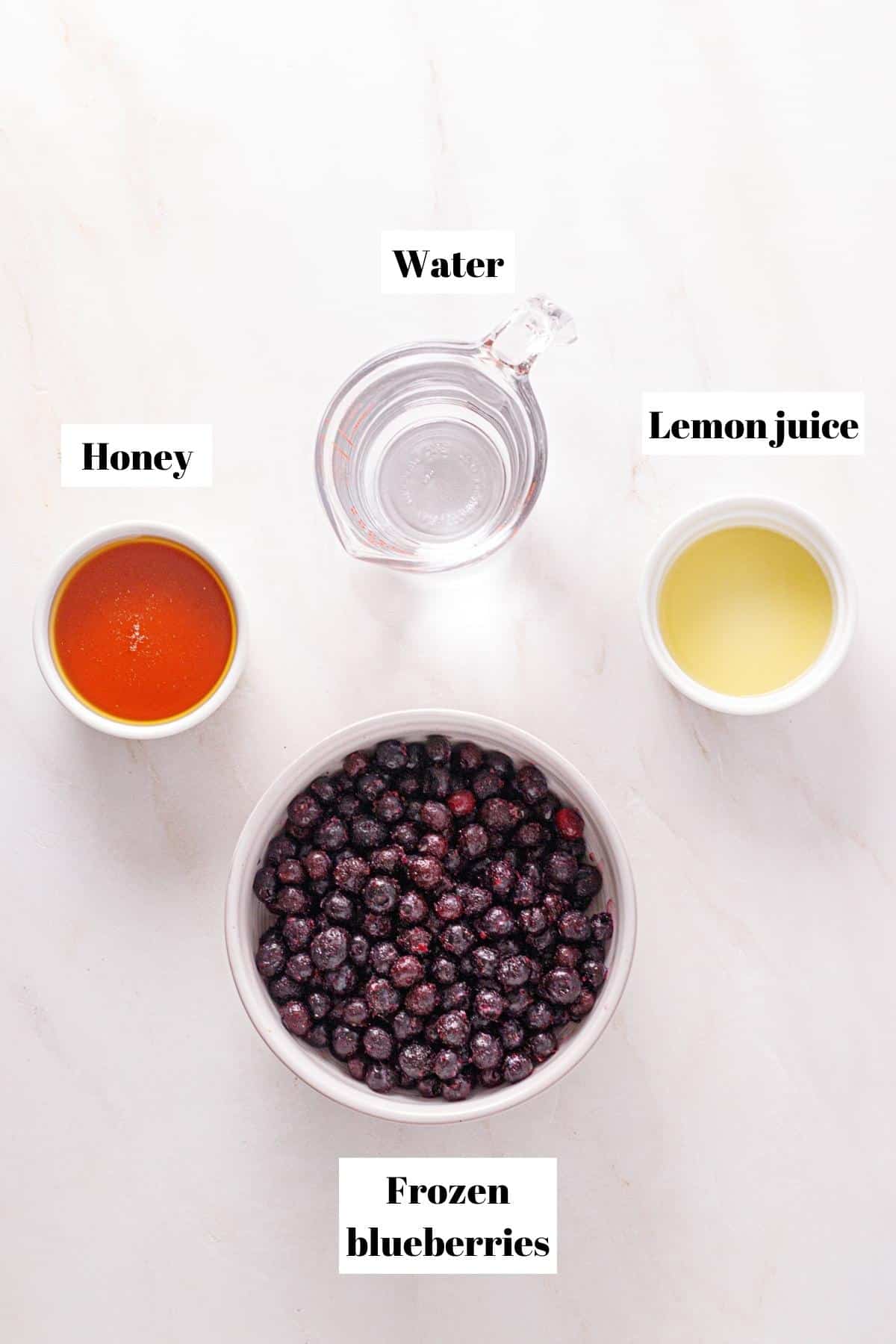 📝Ingredient Notes
Honey: I like to use raw and unfiltered honey because it has the highest amount of nutritional compounds.
Lemon juice: I recommend only using fresh lemon juice.
🍓Substitutions
Blueberries: While I haven't yet tried another berry in place of the blueberries, I think you would have the most success using strawberries as a substitution.
Honey: Pure maple syrup (which is not the same as pancake syrup) can be used as a sweetener as well.
Lemon juice: Fresh lime juice can be used in place of lemon juice.
🥭Variations
Wild Blueberry Juice: This is a popular juice you can purchase by the bottle. You can easily buy a bag of frozen wild blueberries and make this a Wild Blueberry Juice.
Coconut water: Add coconut water instead of regular water. Or use half the water and use the rest with coconut water.
Blueberry juice cocktail: While this recipe is non-alcoholic, you can spike this juice with some vodka and add some club soda or Sprite. 
Cinnamon: Cinnamon is known to enhance the flavor of blueberries. During the initial blend, add about ¼ teaspoon of ground cinnamon.
No sugar: If you want to cut out the added sugar, peel an apple or two, remove the core, slice it up, and add it to the blender. Apples provide a natural sweetness that will make this juice delicious.
Mint leaves: Mint flavor pairs really well with blueberries. Add 2 or 3 mint leaves and blend until completely smooth.
Ice cube trays: Freeze this juice in an ice cube tray and add them to drinks like lemonade, sparkling water, alcoholic beverages, and more. 
🔪How to Make Blueberry Juice (with Process Photos)
Add the blueberries, honey, and lemon juice to a high-speed blender with 1 cup of cold water.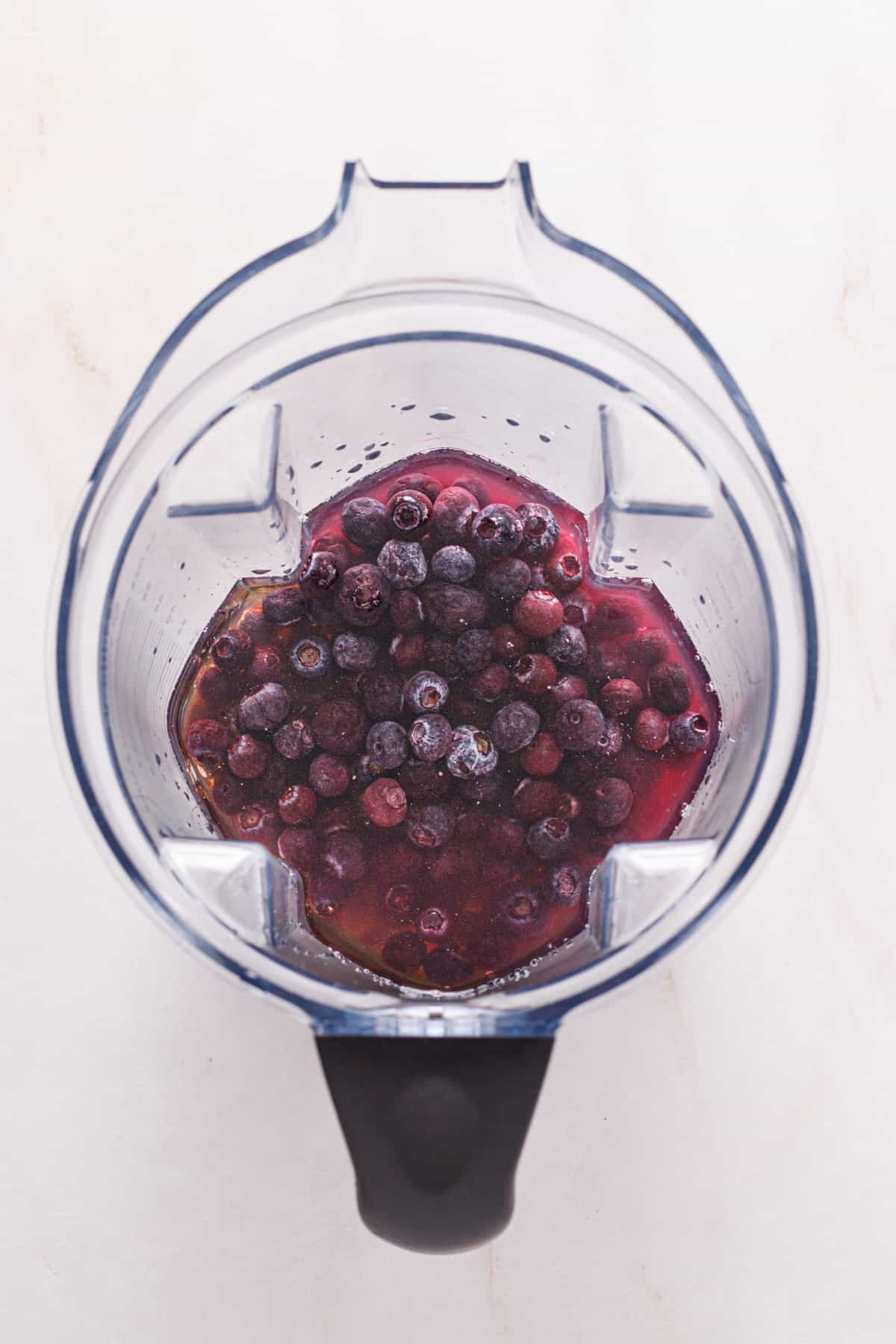 Blend until completely smooth with no lumps remaining.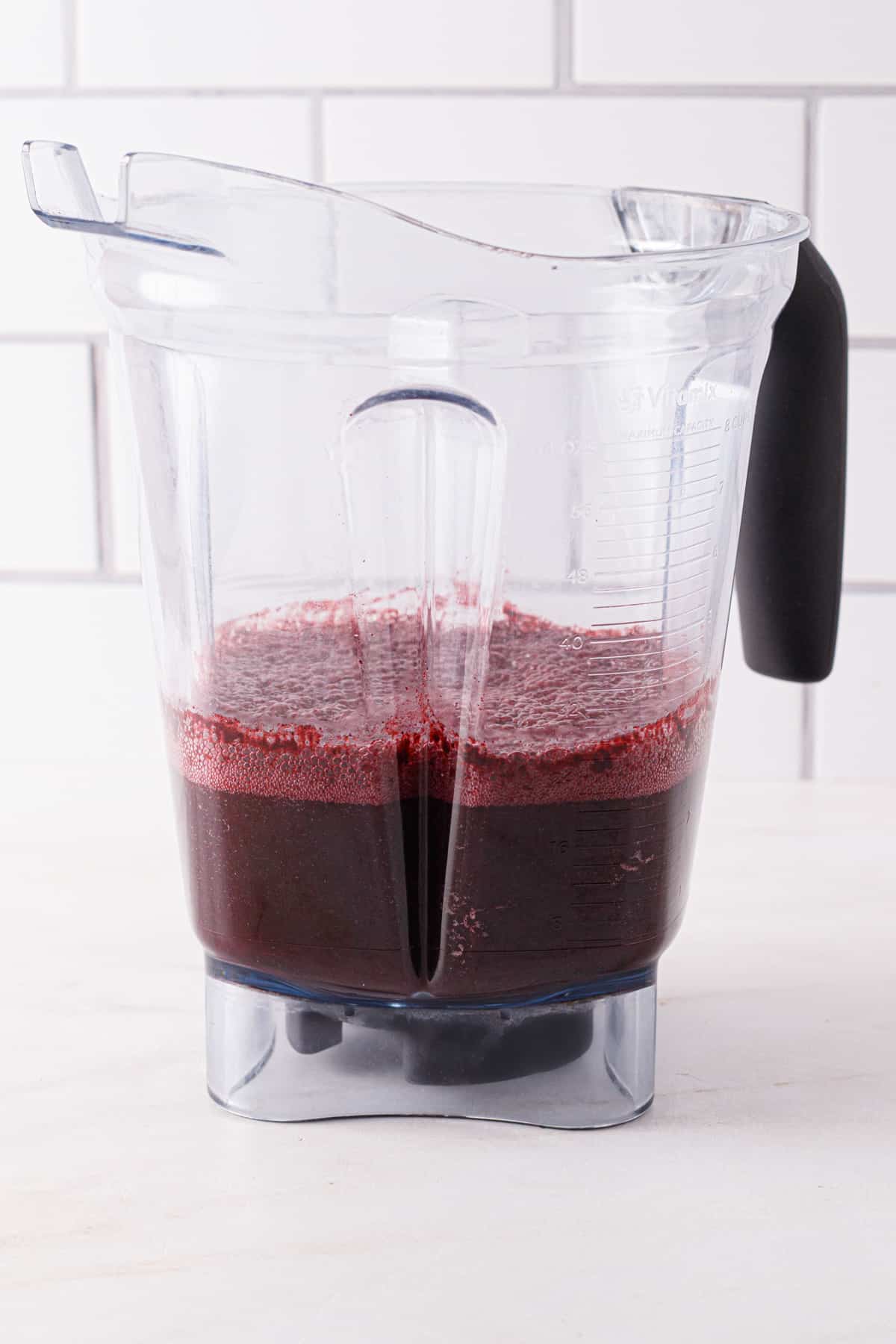 Add in the rest of the cold water and blend until well incorporated.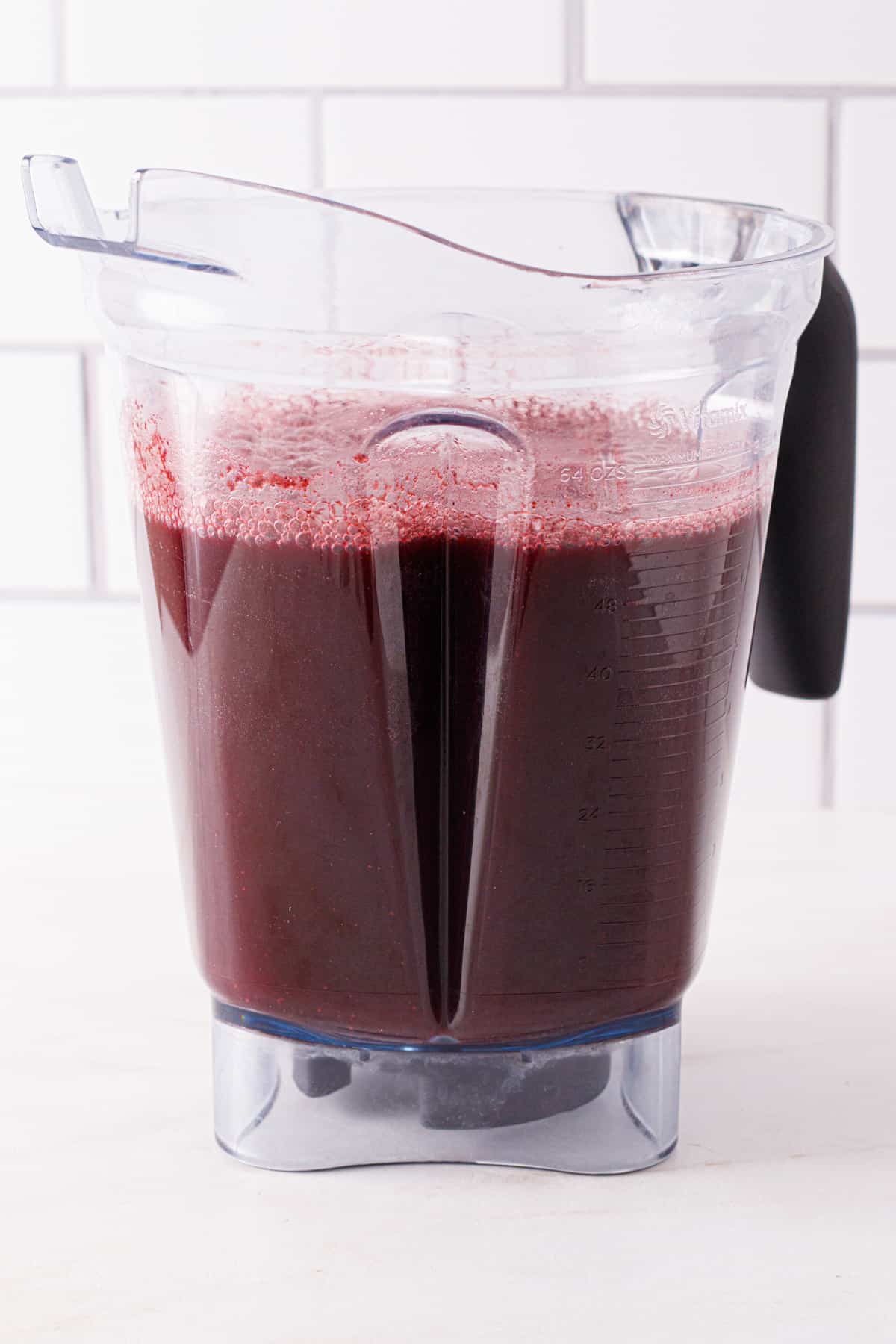 Enjoy!
🧊Storing
Store in an airtight jar in the refrigerator for 2 to 3 days. Shake before drinking.
You can make this juice ahead of time. For best results, prepare the night before you plan on serving it.
✅Pro Tips
Use frozen blueberries instead of fresh ones: Fresh blueberries can vary in taste and sweetness, so your results may not be the same every time you use them.
Blend the blueberries with plenty of water: If you don't use enough water, your juice will be thick instead of a straight liquid.
Use a high-quality blender: A high-speed blender will ensure that you end up with smooth juice.
Add enough sweetener to suit your liking: This juice isn't super sweet. If you like more sweetness, slowly add more honey or pure maple syrup to taste.
⁉️Frequently Asked Questions
⭐️Before you go! If you loved my Blueberry Juice Recipe, leave a review and let me know! And if you aren't following me on social media, search @thedairyfreemenu and follow me there.
📖 Recipe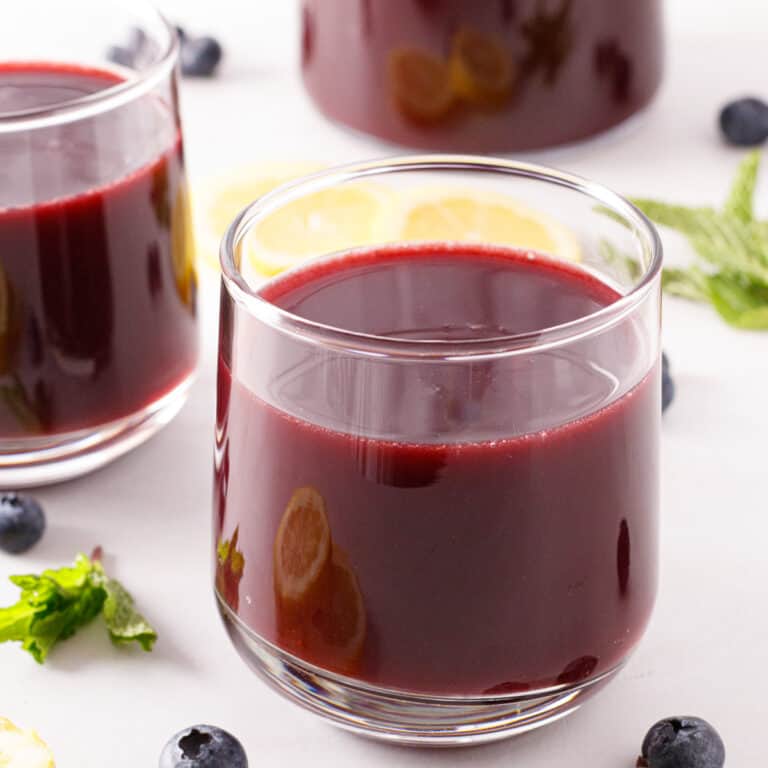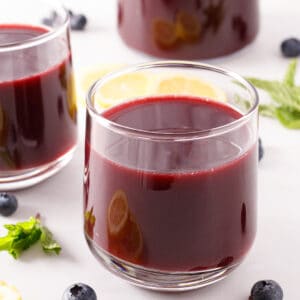 Blueberry Juice Recipe
This refreshing Blueberry Juice Recipe is a great and healthy way to incorporate blueberries into your diet. Making your own couldn't be any easier. You just need a blender, a few minutes, and simple ingredients.
Ingredients
1

pint

frozen blueberries

11 ounces (or about 2 heaping cups)

2

tablespoons

fresh lemon juice

⅓

cup

honey

or pure maple syrup

5

cups

cold water
Instructions
Add the blueberries, lemon juice, and honey to a high-speed blender with 1 cup of cold water.

Blend until completely smooth and no lumps remain.

Add in the remaining water and blend until completely mixed.

Enjoy!
Notes
If the juice has sat for a while (in the refrigerator), shake it before drinking. 

For a wild blueberry juice recipe, use frozen wild blueberries. 

After blending, you can wait for the bubbles to settle or scoop it out to pour and serve.

Add enough sweetener to your liking. I've added a little more honey than ⅓ cup before, but I 

do not

 recommend adding ½ cup because the honey flavor will stand out too much.

This recipe makes just a little over 6 cups of juice. 

Read the Variations section of this post for more serving ideas.
Nutrition
Serving:
1
cup
Calories:
103
kcal
Carbohydrates:
27
g
Protein:
1
g
Fat:
0.3
g
Saturated Fat:
0.02
g
Polyunsaturated Fat:
0.1
g
Monounsaturated Fat:
0.04
g
Sodium:
11
mg
Potassium:
76
mg
Fiber:
2
g
Sugar:
23
g
Vitamin A:
43
IU
Vitamin C:
10
mg
Calcium:
12
mg
Iron:
0.3
mg
Note: The nutrition label is only an estimate. Amounts may vary.